CVS Corporation and Hypercom Team to Help Speed Recovery of Missing Children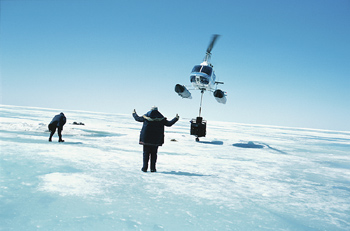 Business Editors
NOTE TO MEDIA: Multimedia assets available
Payment Terminal Displays Pictures at Check-Out to Support
National Center for Missing & Exploited Children
Hypercom Corporation (NYSE:HYC), CVS Corporation (NYSE:CVS) and the National Center for Missing & Exploited Children announced today that Hypercom's ICE(TM) card payment terminals will be used by CVS to enhance efforts to locate missing children.
A pilot at four CVS pharmacies in Chicago is planned next month during which images and vital information about missing children will be displayed on the terminals' full-color, high-resolution graphic screen.
When customers make purchases at participating CVS locations, the Hypercom card payment terminal will display an image of a missing child along with the child's name, date-of-birth, height, weight, eye and hair color, ethnicity, as well as a toll-free phone number and Internet address to the National Center for Missing & Exploited Children (NCMEC).
"Socially responsible companies like CVS and Hypercom are integral to our efforts to locate missing children and reunite them with their families. We welcome this new photo distribution opportunity," said Ernie Allen, NCMEC co-founder, president and CEO.
"We are pleased to participate in this Chicago-area pilot program. We always strive to make a positive impact in the communities where we do business," said Raymond Auger, Director of Retail Application Development, CVS Corporation.
"One missing child is one child too many. Nearly 2,000 children are reported missing in the U.S. every day. That's more than 750,000 children in the U.S. last year alone. Everyone has a responsibility to protect children, and we are gratified to team up with CVS and the National Center for Missing and Exploited Children to address this problem," O.B. Rawls IV, president, Hypercom North America.
Unlike conventional payment terminals consumers use everyday at grocery stores for credit card and PIN-based debit card payment, the ICE 6000 terminal provides an "Interactive Consumer Environment" that's capable of doing much more. Instead of a small, two-line character display, ICE terminals have a 6- inch color touch screen facing the consumer. This can be used for other applications like the display of missing children being done at CVS as well as to present payment information, displaying to the customer the purchased items as they are scanned at the register.
The card payment terminal is integrated to the point-of-sale register to provide electronic payment functions (debit, credit, EBT, gift card). Because it is Web-enabled, it also supports electronic receipt capture, e-mail, on-screen advertising, interactive electronic coupons, and cash management reporting through a standard browser-- as well as secure credit, debit and smart card functions.
The ICE 6000 is specifically designed to meet the needs of the multi-lane payment terminal and systems market, which generally includes the top 100 US and selected global retailers, including supermarkets, department stores, chain drug stores, mass merchandisers and other retailers.
About National Center for Missing & Exploited Children (NCMEC)
NCMEC, a private, 501(c) (3) nonprofit organization, works in cooperation with the U.S. Department of Justice's Office of Juvenile Justice and Delinquency Protection. It is the national resource center and clearinghouse on missing and exploited child cases. Today, there is a national network linking NCMEC with law enforcement through 50 state clearinghouses, transmitting images and information about missing children instantly across the country. NCMEC is one of a few nonprofit organizations granted access to the National Crime Information Center and the National Law Enforcement Telecommunications System. For more information, please visit www.missingkids.com or call NCMEC's toll-free hotline at 1-800-THE-LOST (or 1-800-843-5678).
About Hypercom(R)(www.hypercom.com)
Hypercom Corporation (NYSE:HYC) is the leading global provider of electronic payment solutions that add value at the point-of-sale for consumers, merchants and acquirers, and yield increased profitability for its customers. Hypercom's products include secure web-enabled information and transaction terminals that work seamlessly with its networking equipment and software applications for e-commerce, m-commerce, smart cards and traditional payment applications.
Hypercom's widely-accepted ePOS-infocommerce(R) (epic) framework of consumer-activated, EMV-certified, touch-screen ICE(TM) (Interactive Consumer Environment) information and transaction terminals enable acquirers and merchants to decrease costs, increase revenues and improve customer retention.
Headquartered in Phoenix, Arizona, Hypercom is independently acknowledged as the leading provider of point-of-sale information and transaction terminals. Demand for Hypercom's terminals surpassed one million units last year alone. Hypercom today maintains an installed base of more than 5 million terminals in over 100 countries, which conduct over 10 billion transactions annually.
Hypercom and ePOS-infocommerce are registered trademarks of Hypercom Corporation. ICE is a trademark of Hypercom Corporation. All other products or services mentioned in this document are trademarks, service marks, registered trademarks or registered service marks of their respective owners. Certain matters discussed within this press release are forward-looking statements within the meaning of the Private Securities Litigation Reform Act of 1995. Although management of Hypercom believes the expectations reflected in such forward-looking statements are based on reasonable assumptions, it can give no assurance that its expectations will be attained. Factors that could cause actual results to differ materially from expectations include industry, competitive and technological changes; risks associated with international operations and foreign currency fluctuations; the composition, timing and size of orders from and shipments to major customers; inventory obsolescence; market acceptance of new products and other risks detailed from time to time in Hypercom's SEC reports, including the company's most recent 10K and subsequent 10Qs.