Ardent anglers take note: Ice fishing is in full gear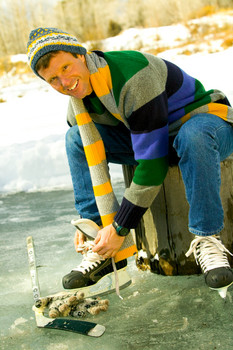 Fishermen: The ice is on -- over most Utah waters, that is.
Among the more popular fishing spots in northern Utah, only Deer Creek and Jordanelle have yet to receive a full cap of ice.
Which means, of course, ice fishing is in full gear for those ardent anglers who fear neither snow nor wind nor the work involved in drilling through foot-thick ice.
This is the time, too, when fishing alone will hold the attention of anyone who chooses to go along.
Take Rockport Reservoir, for example. Latest reports are that fishermen are pulling trout and/or perch through the ice holes as fast as they can unhook and return the lure to the water.
Fishing, at times, has also been just as fast at Echo, although not as consistent.
The secrets to winter fishing are few and simple: Dress warmly, be willing to move frequently and have a light touch.
Fish are able to feel the cold and therefore are less active in the winter. Which means it's sometimes up to the fishermen to move about and locate fish as opposed to fish moving to find baited hooks.
The rule is that if nothing but frostbite has hit after 15 to 20 minutes, move to another ice hole.
Also, being less active, fish bite with less enthusiasm. Sometimes a strike registers as no more than a slight twitch at the end of the rod. For that reason, avid fishermen go with winter fishing rods that are short, thin and sensitive.
Ice fishermen also dress for the occasion. The recommended method is to layer, which allows anglers to take clothing off when it warms up and put it back on when it cools down. Good gloves and boots are especially important, as is good headgear.
One reason for the popularity of winter fishing is the list of equipment is short and not too expensive . . . shorter rods, smaller reels, a good ice auger and an ice fly tipped with a chunk of perch or sucker meat.
One thing anglers need to pay attention to is the thickness of the ice. To safely support a group of anglers, the ice needs to be about 4 inches thick. Ice thickness can be checked from shore by throwing a couple of large rocks onto the surface. Anglers can also take a few steps onto the ice and drill a hole.
The way the ice looks also can help determine whether it's safe. Clear ice without a lot of air bubbles is the strongest.
As far as where to go, there are plenty of options, said Tom Pettengill, sport fishing coordinator for the Utah Division of Wildlife Resources.
Besides Rockport and Echo, Fish Lake is also expected to pick up for splake, which is a cross between a brooke and lake trout. There are also a lot of smaller perch in the lake.
Pineview, which has been a winter hot-spot for perch in the past, has been spotty. A thick snow, along with some slush, has made travel difficult over the ice.
There are plenty of perch in Jordanelle. In fact, the limit was raised from 10 to 50 fish this year. The problem is finding where they're holding, especially when there is no ice to walk on to locate them. Success has been called anywhere from fair to good at times.
Strawberry, Utah's No. 1 fishing spot, has been good. Those who can get away from the easy access points, like Chicken Creek and the Ladders, are reportedly catching more fish.
Other popular spots that have iced over include Current Creek, Moon Lake, Pelican Lake and Scofield.